Join a growing global team
of talented individuals who are already building a successful career with Warringtonfire
Are you naturally curious, innovative, and enjoy solving problems?
Do you want to make a meaningful and positive impact on our world?
Why not consider a career at Warringtonfire?
Warringtonfire are world leaders in product, material and process testing, inspection and certification (TIC), where failure in service is simply not an option.
We are part of Element, an organization that can trace its origins back almost 200 years and is today the fastest growing provider of global TIC services, employing over 6,000 engaged experts from over 200 laboratories around the globe.
At Warringtonfire, we deliver a broad range of TIC services into the aerospace, automotive, construction, marine and rail industries, helping our customers develop products, processes and services that are safe, compliant and fit for purpose.
The products, processes and services we test, inspect and certify help protect our customers' reputation for quality and reliability, providing them with greater market access while making the world a safer place. Our highly talented and committed colleagues are immensely proud of the work they do every single day.
Whilst working for Warringtonfire will always be demanding, it is also hugely rewarding. We constantly look to recognize and reward bright, original thinking and hard-working, engaged experts regardless of their field of expertise.
If you want to join a team of like-minded, intelligent individuals who are already building a successful career with Warringtonfire, then why not check out our latest global vacancies at www.element.com/careers .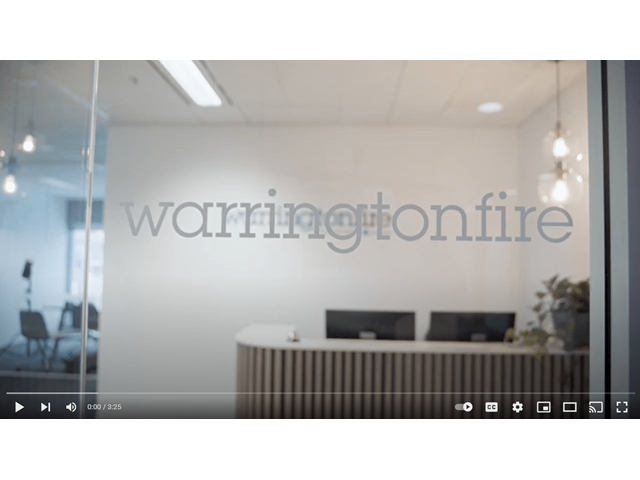 Careers at Warringtonfire Australia
Our people are the key to our current and future success. Working at Warringtonfire Australia is full of challenges, and we expect you to challenge us in return. Our workplace is inclusive, positive and respectful, where everyone has the opportunity to be at their best. Join our team as a fire safety engineer, fire testing engineer or fire assessments engineering.