What is acoustic testing?
Acoustic testing looks at the movement of sound, noise, and vibration. Having an acoustically rated product means that it can help diminish sound activity from outside sources, for example, traffic and neighbours.
Why do I need acoustic testing?
Noise impact assessments are becoming increasingly commonplace, as noise pollution complaints increase. This is reflected in building regulations and product certification schemes across the world, which are adapting to incorporate acoustic rating of products. To keep up to date with global compliance and stay ahead of your competition, you should look to having your product acoustically rated, in a laboratory setting now.
The advantage of laboratory-based testing for acoustic products is an expertly controlled environment in which to replicate and assess how a product will perform under different conditions. The purpose-built laboratory has been carefully calculated to remove any background noise that could affect your results.
What to expect from laboratory-based acoustic testing
During laboratory-based acoustic testing, measurements are taken using pink noise, which is a controlled sound similar to white noise.
Your product is installed into a wall, separating the source and receiving rooms. The test sound is generated in the source room, on one side of the sample, and then the leakage of sound is measured by highly calibrated microphones in the receiving room to produce the acoustic rating.
Testing will be conducted to demonstrate sound insulation performance to specific acoustic testing standards, which vary according to whether you require the British, European, American or International standards.
Acoustic testing with Warringtonfire
At Warringtonfire, we offer two UKAS-accredited state-of-the-art acoustic testing laboratories: High Wycombe, which specialises in laboratory-based acoustic testing for doors and windows; and Al Futtaim Element in Dubai which performs acoustic tests on various building elements. With the High Wycombe 'one site one solution testing process', you can also easily add smoke leakage testing and fire testing as a package with your acoustic test if required.
Click on the icons below to learn more about the specific services from each of these laboratories.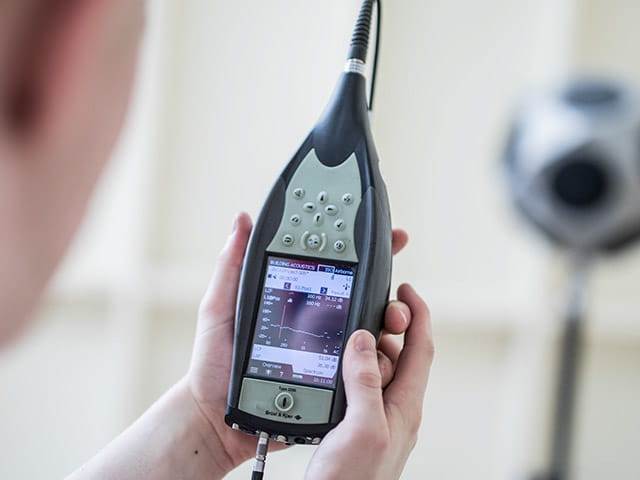 Benefits of laboratory-based acoustic testing
An expertly controlled environment
&nbsp
Accurately replicate how your product will perform in various real-life conditions
&nbsp
UKAS-accredited state-of-the-art facilities
&nbsp
Complete package options: holistic smoke, fire and acoustic testing solutions
Choose your preferred laboratory
If you would like to discuss your laboratory-based acoustic testing requirements, please contact us below: