Smoke leakage testing
Smoke leakage testing is used to test door and shutter assemblies and determines smoke leakage at ambient and elevated temperatures (200oC). Smoke leakage testing looks at the leakage of cold air and hot gases from one side of a door and shutter assembly to the other, which represents the passage of smoke during a fire.
Why do I need smoke leakage testing?
Doors are an essential part of all buildings and increasingly need to perform many different functions. Ensuring the right level of performance of your doorset within a structure is an integral part of building a safe space. Smoke leakage testing is an essential part of complete fire safety testing. A fire door that halts the spread of flame yet allows the passage of smoke is not sufficient for protecting life in a critical fire event.
Increasingly, countries now specify that there must be provision for doors to provide smoke control. In the UK, the current requirement relates only to cold or ambient smoke. However, correctly specified fire doorsets will include intumescent seals which, when subjected to fire, will reduce the movement of smoke.
Smoke leakage test evidence is also necessary if you wish to UKNI / UKCA/ CE mark your door product.
What to expect from smoke leakage testing
In order to evaluate smoke leakage at ambient temperatures, the test is conducted using a specially designed smoke leakage chamber that houses a partition to install the sample. The chamber uses fans to control the pressure exerted and includes a pressure transducer, a flow meter and digital displays to record pressure and leakage rates throughout the test. Leakage over the perimeter length of the opening element is used to determine the results. It is possible to evaluate both positive and negative pressures at ambient temperature. This can be done by simply reversing the chamber control fan's polarity to demonstrate leakage rates at ambient temperatures from both directions; leakage readings are taken at 10 pascals (Pa), 25 Pa and 50 Pa.
Warringtonfire smoke leakage testing services
Warringtonfire can offer smoke leakage testing to EN 1634 Part 3, BS 476: Part 31.1 and AS 1530.7. We have excellent smoke leakage testing facilities and can perform the tests from our UKAS accredited laboratory in High Wycombe, our BELAC accredited laboratory in Gent and our NATA accredited laboratory in Melbourne .
Our facilities include a 3m x 3m rig with a partition for supporting the sample, with the controls from the weather rig powering the fans, while pressure transducers and flow meters help record pressure and leakage rates.
At our Warringtonfire Melbourne laboratory, we are also accredited for a range of European and US air leakage tests.
Smoke leakage testing by itself or as a package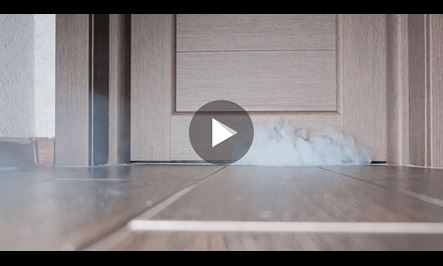 Warringtonfire High Wycombe can offer tri-service smoke leakage testing for fire resistance, acoustic and smoke control testing, saving you time and money.
This package can be offered on one contract, one site, with one project manager and one sample.
You will benefit from reduced costs across the board, enabling overall efficiency in addition to convenient access to our team of engaged experts.
All three tests can be booked individually or as a package deal. The three tests can be performed on the same sample within two days, or multiple samples can be tested over one day.
For more information or to book your smoke leakage testing with Warringtonfire, please contact one of the laboratories below.