Each vehicle model typically has a uniquely designed fuel tank; to be fit for use and demonstrate itself as a safe and reputable option it is essential to test to relevant standards. By participating in fire resistance fuel tank testing, you can ensure the product meets these standards, allowing the product to go to market.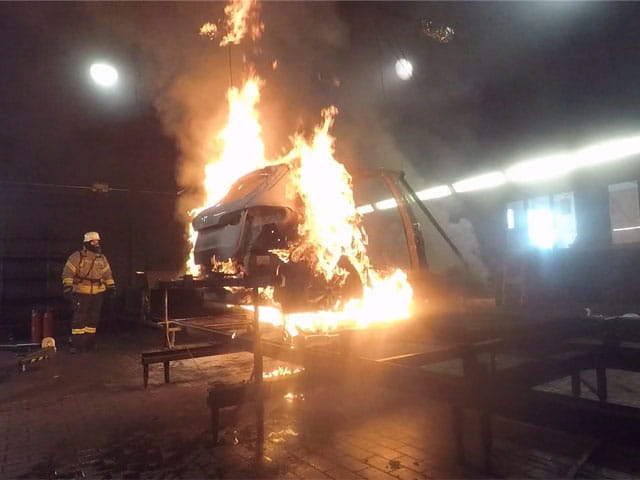 What is Fuel Tank Testing?
Fire resistance testing for fuel tanks is a process in which individual tank units in whole vehicles or mock-ups are tested for their ability to resist fire. This destructive test process replicates the tank's intended end use. Reports will consider how the material responds in a fire situation and offer tweaks to improve this for future iterations if it currently does not meet the standard.
Benefits of Fuel Tank testing
Type approval process of tank systems can be achieved in combination with technical services, reducing administration time

Reduce potentially expensive, time-consuming product recalls. Identify performance, safety, and quality considerations during the product development process and through post-production inspection and testing before product launch.

Provide your buyers with confidence. By demonstrating independent verification of your claims regarding quality, safety and reliability while working with an experienced testing laboratory, potential clients will feel more confident in choosing your product.

Ensure that your unique fuel tank solutions meet regulations. Meet the strict quality and safety requirements during the product development phase, avoiding the need to alter your product further along in production.

Create a competitive advantage. Demonstrate that your product can compete with other suppliers by establishing a reputation of quality, safety, and reputability.
What is the Fuel Tank Testing Process?
We have an experienced team that performs the tests. Including the assembly and disassembly of the tanks. Additionally, we offer temperature measurement and test with pressurized tanks for hybrid vehicles. All services in accordance with the standard and in agreement with customers and responsible for the type of approval process technical services.
Why Choose Fuel Tank testing with Warringtonfire?
Warringtonfire regularly completes fuel tank fire resistance testing in accordance with UN ECE R 34 Annex 5 Paragraph 5. This procedure has a UN broad scope meaning products can be sold across a large market pool. With more than 30 years of experience and as a recognised test centre by the KBA, our Frankfurt Laboratory experts can provide a full scope of related services, including the preparation of the car bodies, the testing itself and reports of our findings.
Our fuel tank testing procedure is able to offer competitive turnaround rates:
Testing of a singular tank – this is a quick test process, with final reports typically being produced within three months.

Homologation of a system – this whole vehicle testing process is carried out over two days, with final reports produced within 3-6 months.

Dependent from available test slots, we can arrange testing within 1-2 weeks after request

Fast testing of fuel systems ( average 3 Tanks per day )

Final reports possible within 1-2 weeks after testing